Disclosure: This is a professional review blog. Bear in mind that some of the links in this post are affiliate links and if you go through them to make a purchase I will earn a commission. Keep in mind that I link these companies and their products because of their quality and not because of the commission I receive from your purchases. All of the products are tested thoroughly and high grades are received only by the best ones. I am an independent blogger and the reviews are done based on my own opinions.
The limbs are the most integral part of the body not only for gymnasts but also for any athlete. That's why you need to give your hands the utmost care and take precautions to prevent any injuries. 
Beginning gymnastics can be hard on any child when they're not prepared enough. Preparation also means having the necessary equipment and attire. However, gymnasts do not typically need grips until they reach level 5. That's when the action involves a lot of swinging and grips are introduced to prevent the gymnast's hands from ripping. Rips happen due to friction between the palm and the bar, where the skin tears away from the hand.
Some experts think it's dangerous to introduce grips at a very young age, arguing that it's hard for tiny hands to grip bars properly with grips on, and could be risking their safety.
The timing isn't specific, however. Gymnasts are introduced to grips at different times, but it is advisable to let the gymnast learn the basic techniques before introducing them to grips.
If you want to get grips, get them now. Veteran gymnasts confess that it's much harder to transition to or from using grips at the upper levels. 
Why are grips needed
Why do gymnasts need grips, you might ask. Well, apart from protecting the hands from blisters and ripping, grips also improve the gymnast's grip on the bars during swings. Having an extra layer of protection doesn't hurt. Many gymnasts who use grips confess that their hands rip at the parts not covered by the grips.
The gymnasts can stay on bars for longer in practice with grips on compared to when they go without grips.
For younger gymnasts, grips can be a source of motivation. It can make them feel included when they use the same equipment as the elite gymnasts.
A beginner can use hand grips to get used to them before graduating to dowel grips later on.
How to know the perfect size of grips
Grips come in different sizes for different hands. You need to measure your palm, from the base to the tip of the longest finger, to determine the size of grip that will fit your hand. Here is a tutorial on the 3-Step Approach to Sizing Gymnastics Grips.
What are the best grips for beginners?
There is a wide variety of grips in the market, each claiming to be the best. However, don't sweat it, we have curated a list of the best grips for beginners to help you make your final decision on what grips to buy for your little gymnast.
Ninja Sports Gymnastics Grips Wristbands for Girls Kids Youth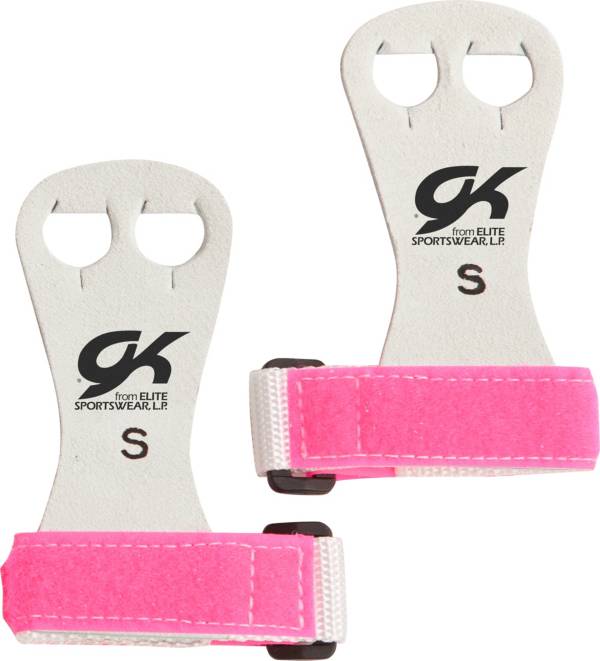 This bundle comes with one pair of gymnastics grips and a pair of wristbands.
To confirm the perfect size, measure the distance from the base of the gymnast's middle finger to the base of their palm.
Wristbands Size: 2.5' X 4'. made up of 80% cotton + 12% rubber + 8% spandex.
Grips Size: XS – up to 2.5', S – 2.5' to 3', M – 2.75' to 3.25', L – 3.5' to 4'.
Tip: Use sandpaper to adjust to enlarge the hole or foam to tighten the holes on the grips.
Click here to check the price on Amazon.
LEVIERO Palmies Multipurpose Palm Grips | Gymnastic Hand Grips for Kids 
These high-quality gymnastic grips are designed for any type of workout, for any age or ability. From strength training and gymnastics for beginners to street workouts, kettlebell training, weightlifting, and functional fitness. 
They are designed in Australia with unmatched quality for all athletes. The gymnastics bar grips feature bright, fun colors for that extra bit of motivation for the beginners' workouts while providing comfort and durability.
These gymnastic grips are worn with the finger holes at the base of the fingers – for a solid grip. The exclusive gymnastics hand grips are designed to be super comfortable to protect the gymnast from rips, tears, blisters, or callouses. 
The soft, flexible leather is easy to work with, while the slightly under-sized finger holes are flexible and adjustable to minimize rubbing or chafing while you're training. Simply use sandpaper wrapped around a pencil to widen the finger holes or foam to tighten the holes.
Be prepared for every workout and training session with these gymnastics gloves for kids and adults! Whether you need pull-up grips, weightlifting grips, gymnastics bar grips, LEVIERO is the right choice. 
The grips are Patent-Pending with two layers of premium leather, to ensure that they are long-lasting and durable. These gymnastics grips for girls, boys, and everyone in between feature double stitching and stainless steel d-rings so that you are always ready to go.
The Leviero palm grips come with handy gymnastics grips accessories! These include a pair of cotton wristbands, as well as a mesh carrying bag that will reduce odors after long training sessions.
Whether you're a pro athlete or just starting out, these gymnastics grips for kids and adults offer superior performance and durability for everyone. They come in a full range of sizes. With a velcro closure system and a reliable stainless steel D-ring, these grips are easy to put on to provide protection for all ages and skill levels. If you're a beginner gymnast, you can use these gymnastics grips for girls' uneven bars to work toward wearing dowel grips later on.
Click here to check the price on Amazon.
Gibson Rainbow Gymnastics Hand Grips
Made for strength training and gymnastics. Minimizes rips, tears, blisters, and callouses on your hands.
It features finger holes to be worn at the base of fingers.
To find the perfect size, measure from the base of the middle finger to the base of the palm. 
Medium – 3 to 3.5″, Large – 3.5 to 4″, X-Large – 4″ and up.
It has slightly undersized finger holes for a customized fit. In case the holes are too small such that the grips are uncomfortable, it is recommended that you use sandpaper to increase the hole size
The grips are made in the USA, with top-quality US tanned leather with all imperfections removed. 
It comes with a 30-day manufacturer's warranty in case you're not satisfied with the product.
Click here to check the price on Amazon.
Monkey Bar Gloves Children 7 and 8 Years Old with Grip Control 
Monkey bar gloves are made with a beginner gymnast in mind. Say goodbye to blisters and rips on the child's hands. The grips are made durable enough to last until the child graduates to dowel grips. They are guaranteed to last the gymnast a long time since the workout at that level isn't so intense and demanding. 
They are made of smooth cotton material that is snuggly and comfortable for the child's hands.
If this is your first time owning gymnastic grips, here are some tips to help you take good care of your gymnastic grips. 
Click here to check the price on Amazon.
You can also explore more content by checking out these great articles that talk about the top gymnastics moves on the bar and the best gymnastics rings for Crossfit to help you gain more knowledge in the world of gymnastics.