Disclosure: This is a professional review blog. Bear in mind that some of the links in this post are affiliate links and if you go through them to make a purchase I will earn a commission. Keep in mind that I link these companies and their products because of their quality and not because of the commission I receive from your purchases. All of the products are tested thoroughly and high grades are received only by the best ones. I am an independent blogger and the reviews are done based on my own opinions.
When practicing gymnastics or simply completing strength and coordination exercises, rings are an essential. Not just any rings can be used, however. It is important you use rings that are up to quality and performance standards. What makes a set of rings meet the quality and performance standards necessary for a successful gymnast? Carabiners are one of the essential aspects.
A carabiner is a tool designed chiefly to keep you, or the gymnast, safe. The carabiner is a coupling link with a locking or closure mechanism that allows for things to be attached in assurance that they will not come off or unlink. Carabiners, often with a curved body and straight bar gate, typically offer easy installation with clipping abilities and secure waypoints. This is much better and safer than the traditional coupling link with no closure point.
This article shares with you the best carabiners and ring straps on the market, as well as some tips to care for them well upon usage. By the end, you'll be able to purchase and use this gymnastics tool with confidence.
Best Gymnastic Carabiners and Straps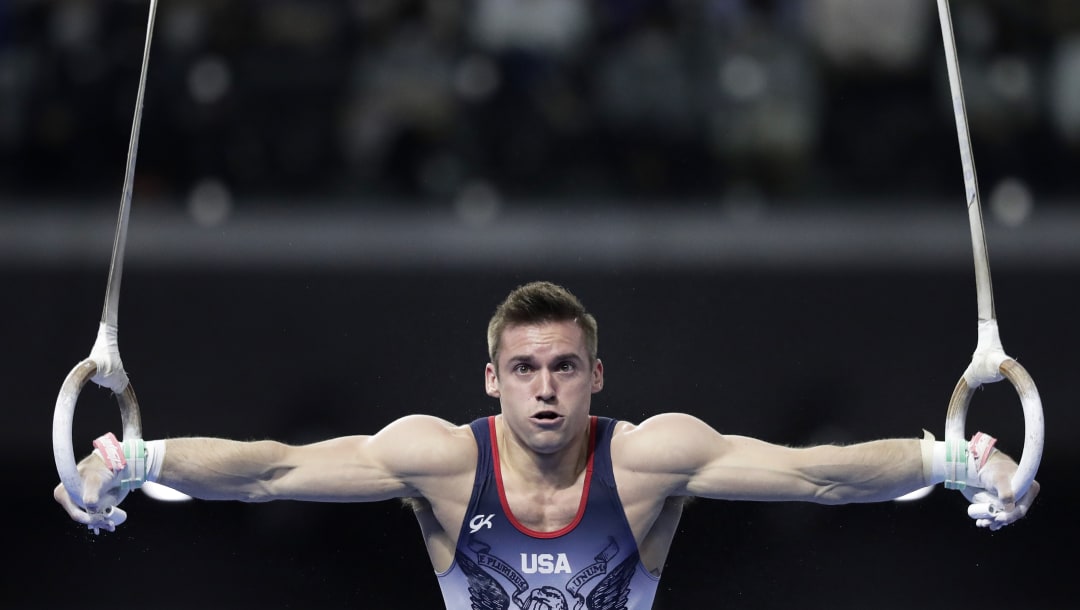 There are many different types of gymnastics rings, straps, and carabiners on the market. Some are sold with extra amenities like workout guides or the rings themselves. Many can withstand more weight than others. Certain ones are made of different materials than others, or in varying dimensions. Nevertheless, all the products in this list are of the highest quality and best value for your buck.
PACEARTH Gymnastic Carabiners + Ring Straps
The PACEARTH carabiners paired with the gymnastic ring straps are of the most strong and flexible in the industry. The heavy duty polyester ring straps and heavy carabiner set can withstand up to 1763 pounds. Adjustable to 15.74 feet high, the ring straps are perfect for use with high ceilings or on an overpass. Safer than their 1.3 inch counterpart straps, PACEEARTH ring straps are sturdy with the strongest carabiners of their class. What's more, adjustability provides two extra benefits. One, they can be used anywhere, perfect for recent unprecedented times where group gyms may be closed. Two, the whole family no matter height can use them, even for simple exercises like pull ups and dips.
Click here to check the price on Amazon.
MUST READ: Unique Gymnastics Floor Music
Vulken Adjustable Straps + Carabiners for Gymnastic Rings
The Vulken carabiners are made of ultra strong steel and with two to a strap enable each strap to withhold 4000 pounds. These straps are 1.5 inches wide and adjustable to 8.5 feet long, made of premium nylon, and stitched wide. They can accompany wooden, metal, or plastic rings and have numbered loops with quick hooks.
Click here to check the price on Amazon.
Double Circle Quick Adjust Gymnastic Rings & Carabiner Hook System
This high quality carabiner hook system comes with not only 1.5 inch wide 8 feet long nylon straps, but also free additional online exercise video guides to stay in shape outside of the gymnastics gym. The numbered straps make adjustment and installment easy as well. Additionally, with a customer satisfaction guarantee, you can receive a full replacement or refund, no questions asked, if not satisfied.
Click here to check the price on Amazon.
AweGym Gymnastic Rings + Adjustable Straps + Carabiners
This AweGym kit consists of quality aluminum screw lock carabiners, wooden gymnastics rings with a 1 inch diameter, double layer 9.4 feet nylon straps, black grip tapes, and a resistance band. With this set you're not just getting top-class carabiners, but everything you'll need for successful ring exercises. They also offer a 100% money back guarantee if you are not satisfied.
Click here to check the price on Amazon.
Caring, Maintaining, and Using Your Carabiners Properly
While the carabiner your rings come with does play a large role in safety and performance, it is important to take care of them well to maintain the optimization of the product. No matter how good the carabiner, your safety additionally relies on your diligence and attention.
When taking care of a carabiner, start with inspection. Check for cracks, corrosion, excessive wear, and sharp edges. Even the smallest dents, cracks, or corrosions can reduce carabiner strength. All check for bent or missing rivets. Additionally, make sure each gate opens and closes completely as well as easily at will. If you drop a carabiner from a significant distance, immediately throw it away.
After inspection, perform caring and maintenance. Clean the gates by blowing debri from the hinge area, wash any stickiness with soapy water or citrus bike cleaners, and lubricate with dry graphite or any other dry, wax-based lubricant. Anytime your carabiner is near salty air or water you should follow the above steps. Store your carabiners in cool, non-salty air away from dampness and corrosive chemicals.
You also must use carabiners properly to maintain safety and performance. A big thing to take note of is on connecting a carabiner with another carabiner. At one point when carabiners were used primarily for climbing and caving, they were built as non-locking aluminum ovals which could easily cause damage with loaded torque. Today there are many different types of carabiners so it is possible to connect them together, although you should follow a safety protocol. Make sure your connected carabiners are floating, do not come in contact with a hard surface, and are free to rotate if necessary to prevent torque loading.
MUST READ: 60 Things You Need to Know About the USA Gymnastics Team
Especially when purchasing your first set, buying gymnastic rings, straps, and carabiner can be a tricky process. What material is safest? How do you know what length will be right? Should you buy the gymnastics rings, straps, and carabiners together or separately. Hopefully this guide answered some of these questions so you can make the best purchase that fits your needs. Knowing a little bit more about high quality products and how to properly care for these tools allows you to make an educated purchase with peace of mine. Even with a product as difficult as gymnastic rings, straps, and carabiner, you can be comfortable and proud with your decision.