Disclosure: This is a professional review blog. Bear in mind that some of the links in this post are affiliate links and if you go through them to make a purchase I will earn a commission. Keep in mind that I link these companies and their products because of their quality and not because of the commission I receive from your purchases. All of the products are tested thoroughly and high grades are received only by the best ones. I am an independent blogger and the reviews are done based on my own opinions.
Gymnastics rings are seen to be an excellent way to maintain strength conditioning, whether it be through gymnastics and physical education classes in school, or through being a professional gymnast. Exercise equipment such as the rings form a part of calisthenics, a series of exercises that concentrate on improving fitness, strength and flexibility through specific movement types.  During the global Covid-19 pandemic, there has been a noted increase in fitness apps and regimes taking place at home, including calisthenics. With that being the case, this article will look at some of the best wooden gymnastic rings available on the market and which ones are the most suitable for you.
PACEARTH Wooden Gymnastics Rings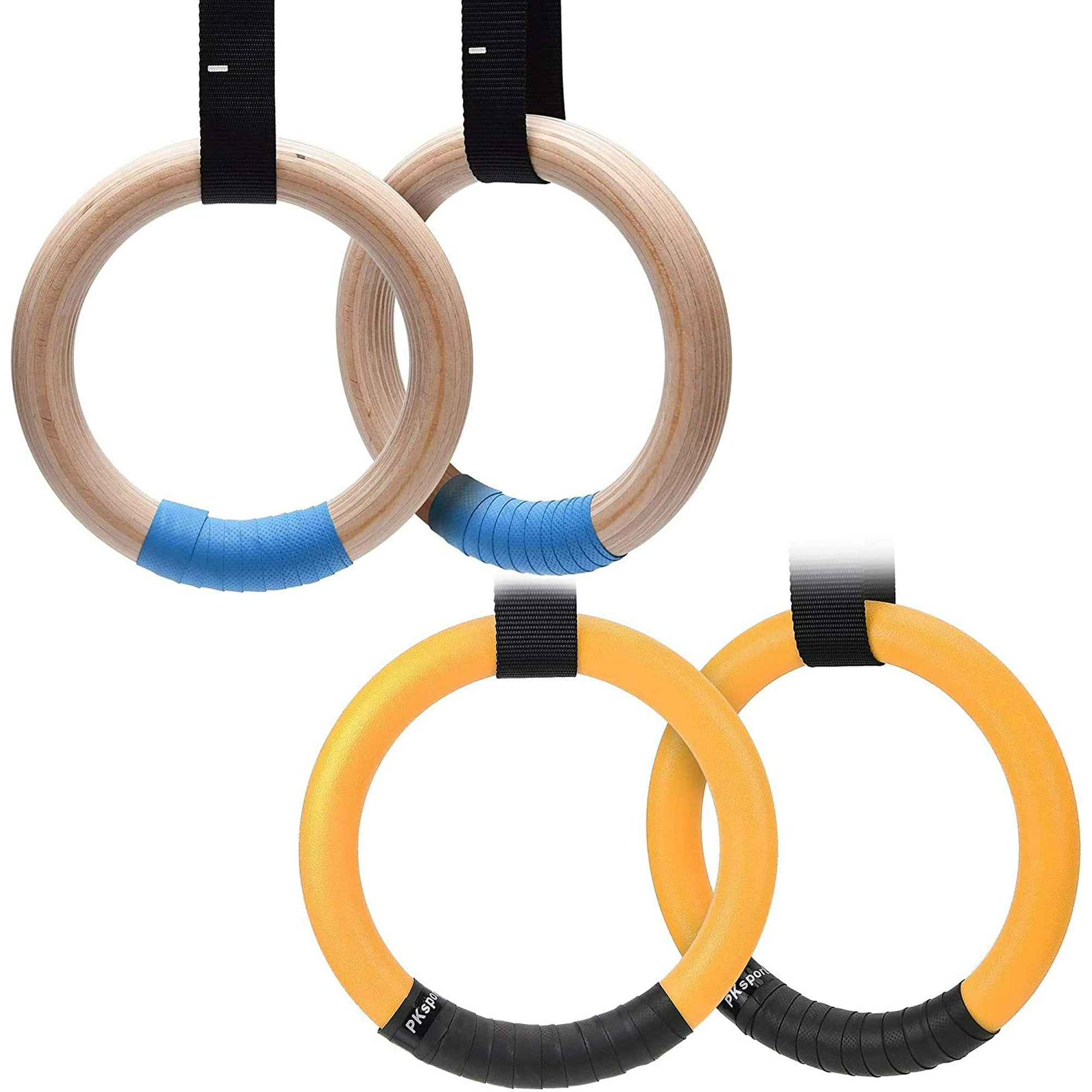 These gymnastics rings by PACEARTH are made from birch wood and come equipped with non-slip hand tapes, which are designed to improve comfort and decrease the likelihood of slipping off the rings and suffering injury. Retailing at $43.99, these rings have had excellent reviews from customers, particularly from those who are just starting out in calisthenics. Among the reasons for the positive reviews are the clear instructions on setting up the rings, affordability, the maximum weight capacity (1500 lbs) and good quality.  With that being said, some reviewers have noted that the non-slip hand tape can come off quite easily. If you do decide to purchase these rings, it is recommended that you purchase extra tape as a precaution.
Pros:
Easy assembly instructions,
Good ring durability,
Adjustable cam buckle – suitable for adjustments based on user height.
Cons:
Must be set up inside for safety reasons – wet weather can cause the metal clamps to rust,
Blue non-slip hand tape is prone to unravelling.
Click here to check the price on Amazon.
Newtion Wooden Professional Gymnastic Fitness Rings

The Newtion Wooden Professional Gymnastic Fitness Rings are also made from birch wood and are advertised to include a storage bag and stability straps, which are made of polycarbonate nylon. These rings are marketed as being perfect for gymnastics training and being easy to use, which the majority of the consumers agree with. Selling for $29.99, these rings are also easy to disassemble, should you need to move their location. Some customers have stated, however, that the rings do not come with the advertised tape or storage bag. If you opt for these rings, it may be worth considering purchasing your own bag and tape.
MUST READ: Top Ten Gymnastics Camps In The World For Adults
Pros:
Easy to use and assemble,
Good quality, robust straps,
Safe for children to use (with supervision).
Cons:
Customers have noted that the rings don't always come with the bag and tape, as advertised.
The non-slip tape is susceptible to splitting and fraying.
Click here to check the price on Amazon.
Double Circle Wood Gymnastic Rings
These Double Circle Wood gymnastic rings are 1.25" thick and come with carabiner clips on the straps for additional safety. The rings are also advertised as coming with a carry case, which is particularly useful if you need to move the rings to a new location. The type of wood used to make these rings isn't disclosed but they are designed to hold up to 800 lbs in weight. The unique feature with these rings, which retail at $49.97, is the complimentary fitness and exercise videos that come with purchase – a feature that is not available with the previous two sets. Once again, the majority of reviews for these rings are positive, but some customers have written reviews on the limitations of the cable, with some also claiming that the rings have caused them to get splinters in their hands.
MUST READ: Gymnastics Vault Values
Pros:
Easy to assemble,
The rings are advertised as coming with complimentary exercise videos and a book.
Cons:
The cables have fixed slots, which can cause them to be restrictive,
Prone to splintering and fraying.
Click here to check the price on Amazon.
Garage Fit Wooden Gymnastic Rings
The Garage Fit Wood Gym Rings are available in two sizes – 1.1" and 1.25" and also have the option of choosing the strap colours – between black, black numbered, blue and red. The maximum weight capacity of these rings is lower than the previous rings reviewed (550 lbs for 1.25″ and 440lbs for 1.11″), but they are advertised as being suitable for outside use (although treating the wood before outside use is highly recommended.) The rings retail at two different prices, $36.95 for the 1.1" and $43.95, and have had excellent reviews from customers, predominantly regarding the durability of the straps and how well the rings rotate. Some customers have shared concerns regarding the tape, with some stating that they have had to purchase additional tape to prevent splintering.
Pros:
Ability to purchase different sizes – this allows for choosing a suitable set for hand size,
Ability to purchase different colour straps for aesthetic purposes,
Straps are said to be very durable.
Cons:
Tape that comes with the rings is prone to fraying,
No assembly instructions included.
Click here to check the price on Amazon.
UNICLI Sports Gymnastic Rings
The UNICLI Sports Gymnastic Rings, as with the previous rings reviewed, come equipped with adjustable straps. They also have a maximum weight capacity of 1500 lbs and also come with heavy-duty zinc alloy buckles. Retailing at $27.99, they are made from birch wood and come with black tape to absorb sweat and improve grip. They have had good reviews from customers, who are especially pleased with the value for money, strap durability and comfort of the rings. However, some customers have noted that the numbering on the ropes is not always accurate and that there have been instances of splintering.
Pros:
High maximum weight capacity,
Heavy-duty buckles improving safety.
Good strap durability.
Cons:
Some cases of inaccurate numbering,
Some occurrences of splintering, meaning that purchasing additional tape may be required.
Click here to check the price on Amazon.
There are many things to consider when buying gymnastics rings, to ensure that they are the best wooden gymnastic rings for you. It is important to think about the durability and condition of the rings, the protection that the non-slip tape should provide and whether the straps and buckles are strong and safe enough to provide the protection you need from injury. Once you have considered all of these factors, you will be well on your way to mastering calisthenics and gymnastics.