Disclosure: This is a professional review blog. Bear in mind that some of the links in this post are affiliate links and if you go through them to make a purchase I will earn a commission. Keep in mind that I link these companies and their products because of their quality and not because of the commission I receive from your purchases. All of the products are tested thoroughly and high grades are received only by the best ones. I am an independent blogger and the reviews are done based on my own opinions.
Is it possible to train while traveling? We'll let YOU decide after reading our top ten gymnastic training camps for adults.
Gymnastics is a sport that includes exercises requiring balance, strength, flexibility, agility, coordination, and endurance. The movements involved in gymnastics contribute to the development of the arms, legs, shoulders, back, chest, and abdominal muscle groups. Interested in gymnastics in spite the fact you are an adult?. Well I have gathered for you top ten gymnastic camps in the world for you!
Number ten on our list is Northern Hope located in Washington. Offering gymnastics for, adults, disability, preschool, gym fit, men's, women's, team gym, acrobatics, and tumbling.
Gymnastics World supplies a great environment for adults and gymnastics enthusiasts to learn how to tumble and sharpen their skills. If you are looking for a camp for you and your children this place is perfect for you! They are located in the USA, L.A. Their coaaches are great and they are currently still open for registrations.
Home Exercise Coach is located in New Hampshire, USA. They provide an adult-only gymnastics camp! They are definitely skill-specific to the USAG JO and XCel Levels. Providing you to choose either summer and a winter camp. As a matter of fact, it is perfect for any time for you, your friends, and family to go do gymnastics and get in shape. It is a yearly program.
Their gymnastics classes cover a whole range of aspects of whole-body conditioning, including strength and stability, flexibility and agility, improved coordination and joint function. and includes former Olympians, masters of the art who are fully trained in adult gymnastics coaching, safety and spotting techniques.
Flip Fest is the only summer gymnastics camp owned and operated by two Olympians, John Macready & John Roethlisberger. As per said in their website "The Flip Fest Camp Retreat is an opportunity for NAIGC members to experience gymnastics summer camp all over again (or for the first time!), but this time with your NAIGC family." This camp features training on all four pieces of women's artistic gymnastics equipment (vault, bars, beam and floor) as well as tumble track and tramp options. They accept male gymnasts as long as they are interested in working on either just vault and floor or the women's events.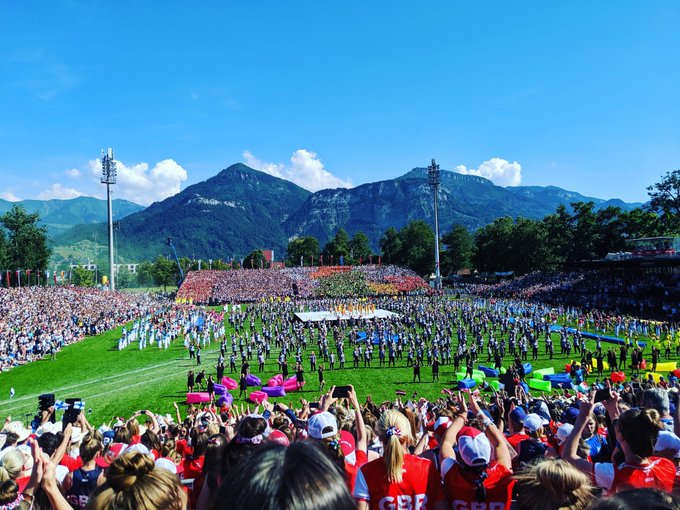 Their program is suitable for both beginners and more advanced performers. Starting each of their classes with a highly structured warmup to get those muscles loose! It is a cheap for you and your friends. A comment from a fellow person who went to Leeds Gymnastics ""The coaches are exceptionally well trained as well as friendly and encouraging. The facilities are brilliant, professional standard equipment and so spacious. Fantastic." – F.Cullen
This gymnastics club has many offers! They offer at their club Adult, Freeg, tumbling, disability, preschool, and acrobatics. As said on their website "Participants will be taught different warm-up techniques, a variety of links and pathways, rolling, tumbling and a gradual progression towards individual aerial skills. Specific aims within the class will be to develop strength, coordination, agility, safe landings and the more creative, freestyled approach to movement complimenting the core elements that makeup freestyle gymnastics. "
AAA Sports offers a lot of programs! Including an adult one. They offer three different adult classes, each of them designed to give adults a fun and engaging activity to take part in every week! Even if you have never done any gymnastics, trampoline, or freestyle before it is fine. Members in the class don't need to have a sporting background to participate. They have their own little competitions for you to take a part of. "Each year Members are able to take part in the AAAsports Championships, which is a fun, friendly event for Members to demonstrate the skills they have learned throughout the year, and everyone who takes part receives a medal and certificate!" 
Illusion Gymnastics Club was founded in 2008. The disciplines they concentrate on are sports acrobatics and display work. They have traveled to many displays and competitions within the United Kingdom and abroad. They have taken part in the following events; Gymfest Aberdeen/Perth, Middlesbrough Gymnastics Festival, London Festival of Gymnastics, The Dublin Fleadh and Gymnastique Magique in Paris. It's definitely one of the most unique schools in this top ten list.
They offer adult program, freeg, men's, women's, tumbling, acro, disability, preschool. Hamilton Gymnastics Club run gymnastics classes out of Hamilton College, Uddingston Sports Centre, Jock Stein Centre, Blantyre Leisure Centre, and Eddlewood Sports Barn. Classes operate every day of the week with the chance to progress into either artistic or acrobatic gymnastics.
These were our top ten gymnastic camps for adults. Hope you found it helpful. Share it around with friends and family.