Disclosure: This is a professional review blog. Bear in mind that some of the links in this post are affiliate links and if you go through them to make a purchase I will earn a commission. Keep in mind that I link these companies and their products because of their quality and not because of the commission I receive from your purchases. All of the products are tested thoroughly and high grades are received only by the best ones. I am an independent blogger and the reviews are done based on my own opinions.
Are you a seasoned gymnast or perhaps just a beginner? Do you own a CrossFit gym or maybe you are just a diehard home gym enthusiast? If so, you have either observed or hand firsthand experience with gymnastic rings. Gymnastic rings provide a workout that not only builds strength and coordination, but also teach stability better than any other piece of equipment. Have you never considered gymnastic rings as part of your gym? You might have a change of heart when you read some of the benefits and exercises working out with gymnastic rings.
However, this article isn't about the rings, rather we are going to discuss the gymnastic straps needed so that the rings can perform their duty. There are many factors to consider. What is the cost? What is the weight limit of the straps? Can you use the straps at home? How secure are the straps and what is the strap material? Are the straps easy to adjust and level? Do gymnastic straps come in more than one length? What are the best possible gymnastic rings straps available? I'm glad you asked.
Vulken Adjustable Numbered Gymnastic Straps
Safety should be your first concern. This means having a quality product that will stay secure and fastened. The Vulken ring straps have four ultra-strong steel carabiners with each carabiner able to hold 2000 pounds. These straps fit rings made of wood, metal, or plastic. Consisting of double layers of superior nylon, these straps also have strong stitching to assure you of a safe workout. It is important that gymnastic rings are set up properly. You can read more about how to accomplish this here.
The Vulken Straps are also very easy to install. Number detail on the traps enables you to adjust the height quickly, enabling smooth transition during workouts. No time to waste.
Click here to check the price on Amazon.
MUST READ: Best Tumbling Matts For Toddlers
Double Circle Quick Adjust Numbered Gymnastic Ring Straps
Just to start with the advantages of these straps, they are not only reasonably priced, but the competition straps are super convenient to use so that you don't waste time having to adjust and readjust to get your rings level. These 8-foot pair of straps are designed for simple adjustment and transition by having the straps numbers to easily line up to be symmetrical. Of course, a key factor to consider is safety. These gymnastic ring straps have the needed security with their buckle and carabiners to keep straps securely in place. Threading the straps, the correct way is important to the condition of the buckle. So, take the time learning the proper way to thread. It will save you time later and extend the life of your equipment. Check here for an easy visual showing you the proper way.
Click here to check the price on Amazon.
Garage Fit Gymnastic Ring Straps
These straps are designed to hold the rings in place and made to stand the test of time. Taking proper care of these straps will permit them to stay strong for years of workouts to come. These make great replacement straps for your existing worn straps. An extra protection is that these come with a 100 percent, one year money-back guarantee. If something goes wrong, they have you covered.
Here's a neat added tidbit. Think black is boring? Garage Fit gym straps also come in colors. Would you like red? Maybe blue? The choice is up to you.
Click here to check the price on Amazon.
Pacearth Adjustable Gymnastic Ring Straps
These strap, measuring 15.74 inches, are a great addition to a home gym. They are made of heavy-duty polyester, able to support up to 1763 pounds. Pacearth's straps have a solid construction so that you can have peace of mind with each workout. These straps are also designed with scale that allows you to easily adjust for the task at hand. As with the other straps discussed this allows a workout to continue to advance smoothly without undue interruption.
Click here to check the price on Amazon.
MUST READ: Best Ankle Brace for Tumbling
Zelus Gymnastic Ring Straps
Created to have durability that lasts, these rings enable you to work out in so many different capacities. Ring dips, reverse row sit-back, ring chin-ups or pull-ups are some exercises to add to the list. Not only does this build strength but also strengthens your core for overall stability and balance. Having a strong core has more benefits than some may realize. Of course, your posture will thank you, but having a strong core is the basis for building strength in all other parts of your body. So, what exercises using the gymnastic rings specifically target the core. Check these out. Your back will thank you and you won't be disappointed with the six pack that comes too.
Click here to check the price on Amazon.
FringeSport Adjustable Gymnastic Straps
If you think that 15 feet is about as long as you are going to get for gym straps, think again. These straps have and entire 30 feet of length. Imagine the possibilities of having the extra length. No longer are high ceilings an issue. Perhaps you want to set up a workout course or routine outside using overhead beams. Not a problem. Consisting of durable polyester material, these straps are easy to adjust with markings at each foot and smaller 3-inch increments. What about weight capacity? Not too shabby having a sizable weight capacity upwards of supporting 3800 pounds. Not sure these are the right ones for you? Don't worry about it. FringeSport gives you an entire year to return without any hassle. Just give them a call. It doesn't get any easier than that. Why not give them a try?
Click here to check the price on Amazon.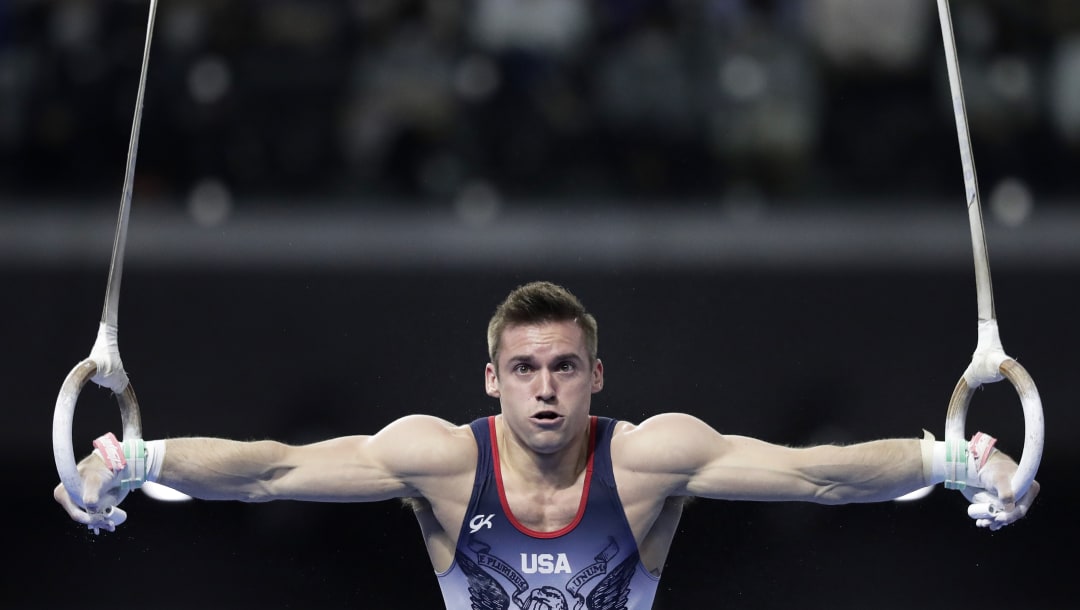 So, you can see, its not just about the rings. If you own a gym or a studio, provide the best safety and durability for your clients. If it is for your home personal use, don't shortchange yourself or your workout by skimping out on the best gymnastic ring straps. Choose correctly now and you will be able to focus on the task at hand, a great workout, a safe routine and have the added benefit of straps that will stand the test of time.