Disclosure: This is a professional review blog. Bear in mind that some of the links in this post are affiliate links and if you go through them to make a purchase I will earn a commission. Keep in mind that I link these companies and their products because of their quality and not because of the commission I receive from your purchases. All of the products are tested thoroughly and high grades are received only by the best ones. I am an independent blogger and the reviews are done based on my own opinions.
Just because your 5 year old gymnast doesn't have a birthday coming up anytime soon does not mean you can't celebrate their achievements! In fact, it is always a great idea to find the time to honor and appreciate our loved ones. So whether you're looking for something special for their birthday or just want to say thank you, we've got 3 perfect gifts that will make your little gymnast's day.
Aricku Kids Gymnastics Bar
The Aricku Kids Gymnastics Bar is a sturdy and safe bar that will provide your little gymnast with hours of creative play. With a wide range of height options, you can adjust the bars to be at just the right level for different skill levels or ages. This way, they won't outgrow their toys before we know it!
For those more advanced in their training, this thicker steel pipe construction provides stability and security that other kids' bars cannot compete with. And even if your child has not reached 140lb yet (our max capacity), rest assured knowing how durable these bars are made from high-quality materials and have a powder-coated rust proof finish. This bar is a great way to encourage your child's love of gymnastics and creativity.
In addition to being adjustable for the size of any 3 – 8 year old, the bar comes in blue and pink and is suitable for both boys and girls.
The Ariku Kids Gym Bar can be found on Amazon here.
MARFULA Folding Gymnastics Beam 
If your little gymnast is not ready to move up from the Aricku bar but still wants that same feel in their practice, then a Marfula Kids' training beam may be just what you need. This foam alternative allows kids to enjoy all of the benefits of a gym-quality beam without the same size or weight restrictions. Ideally suited for kids aged 18 months to age 12 years, your little gymnast will be able to use this bar at home and still feel like they are in the gym!
With a weight capacity of up to 100kg, this foldable beam is designed with safety in mind. Featuring adjustable grips for different heights and improved durability from the original style foam beams, your child will be able to train at home just like they would inside any gym!
Click here to check the price on Amazon.
MUST READ: Outdoor Inflatable Gymnastics Mat
Step onto the beam with confidence:
Mastering a balance beam is one of those skills that takes time and practice. But this doesn't mean it's not possible for your child to learn! With just enough patience on your part, they will eventually get the hang of things – I promise you. And when they do, their self-confidence will come shining through.
But until that time, you'll want to make sure they have a sturdy and safe beam under their feet! This is why we recommend the Step onto the Beam with Confidence from Marfula as one of your perfect gifts for the little gymnast in your life. The soft foam material is perfect for hours of practice. This is one toy that will be enjoyed in your home, day after day!
These beams can be used for a number of balance beam skills such as:
-balancing on one foot
-walking across the beam with their eyes closed
-jumping to a spot and landing in a handstand
But even if your child isn't ready for the more advanced moves, the soft cushioned material allows for any level of beginner balance training. This helps your child get ahead of the game in their gymnastics training, which is a great way to inspire them!
YGEOMER Rhythmic Dance Ribbons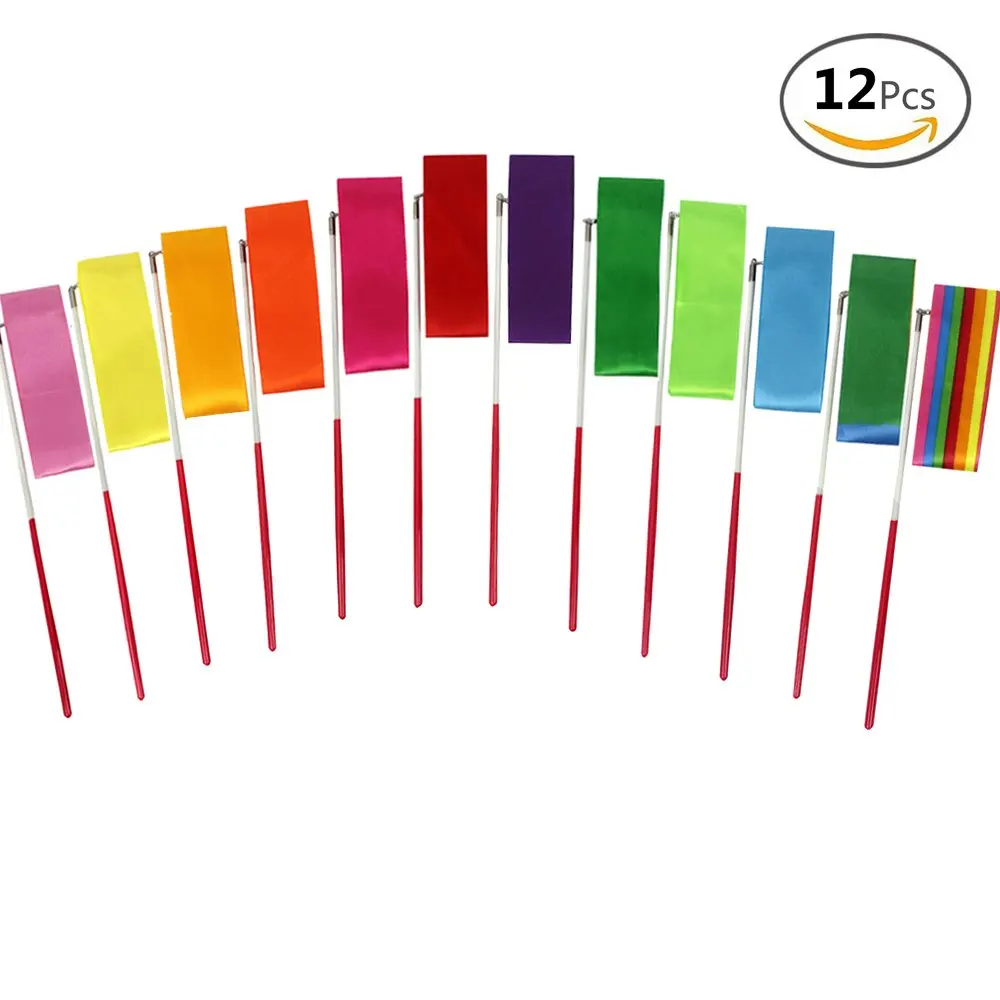 Inspire your child to be creative with the help of a rhythmic dance ribbon!
Rhythmic Dance Ribbons are one of those toys that will instantly bring out their inner dancer. With bright colours and fluid movements, these ribbons make for the perfect gift or stocking stuffer this holiday season.
The best thing about Rhythmic Dance Ribbons is that they are suitable for all ages and skill levels. Made from a soft, yet durable material, these ribbons come in bright colours – perfect for our favourite little gymnasts!
By accentuating fluid movements, these ribbons are great practice for gymnastics as well as dance. They can easily be incorporated into your child's training on the floor or in the air to add another level of creativity.
What's more, because dance ribbons create such a unique visual for young ones, you'll find your child bringing the ribbons out of the gym and into other kinds of daily play.
A slithering snake trail? A red ribbon decoration for a pillow fort? A magic wand?
These high-quality ribbons extend beyond toys for physical activity and will become a staple in any kid's toy box.
Click here to check the price on Amazon.
MUST READ: Gymnastics Elbow Brace
Other Great Ideas
Some more great gift ideas for a five-year-old gymnast include:
-A gymnastics mat for indoor play
-Figure Skating Dress and Boots Set  
-Gymnast apparel such as leotards, tights and things of that nature
-A music playlist with special songs or melodies to help them remember their routines
We hope you enjoy these ideas as much as we did putting them together! Remember: no matter what gift you choose to give your loved one, they'll always be grateful knowing how much thought went into it.
To finish up: make sure they know how much you support them by giving a gift that inspires creativity and confidence. These are gifts worth giving because when it comes down to it, anything is better than socks 😉