Disclosure: This is a professional review blog. Bear in mind that some of the links in this post are affiliate links and if you go through them to make a purchase I will earn a commission. Keep in mind that I link these companies and their products because of their quality and not because of the commission I receive from your purchases. All of the products are tested thoroughly and high grades are received only by the best ones. I am an independent blogger and the reviews are done based on my own opinions.
Like many, I was so inspired by Simone Biles' record setting performance this past August. She represents the pinnacle of the pinnacle of athleticism, grace and perseverance that is the sport of Gymnastics. Indeed, Gymnasts like Simone must dedicate countless hours to the craft in order to achieve the well-rounded athleticism the sport calls for. Upon further reflection, I began to wonder what happens after Gymnasts retire?
Gymnastics is one of the most rigorous, demanding sports to partake in. For those looking to compete at the professional level, long practices equating to 25-30 hours per week, a strict diet, and plenty of rest are in store for you. This leaves little time for much else. Add to that the extreme strain the sport places on your body and you'll understand why Gymnastics is so demanding. Thus, retirement allows many athletes to go and live normal lives, participating in the activities they were to busy to do before.
                       What makes Gymnastics so demanding?
First off, you need very specialized skills: Gymnasts need balance, speed, strength, hand-eye coordination and significant explosive power. And the skill set set required varies from event to event. Second, serious mental fortitude is necessitated by the daily fears Gymnasts must face: twists, back flips, front flips, etc., most of which are done high in the air, on a Balance Beam, or swinging from bars, and accidents can (and do) happen. Wipe-outs are frightening, especially when they could lead to career ending injuries. Third, training can take up as much time as a part-time (and for the elites, full-time) job. This means training can be anywhere from 20-40 hours per week. Fourth, most Gymnasts start very young (even as early as 2). This is because of the extreme stress Gymnastics places upon the body that typically only young athletes are able to handle. Competitions start around 6-7 years of age and athletes are allowed to compete in the Olympics starting at 16; however, there are elite junior Gymnasts as young as 11. Fifth, pressure during competition is extremely intense: an entire meet is only four events for women, six for men, and one shot at every routine. Sixth, perfectionism is a must: Gymnasts perform the same routines over and over in practice in an attempt to make it perfect. In order to do this, they're constantly evaluating every skill with their coaches and making tweaks on how they perform them.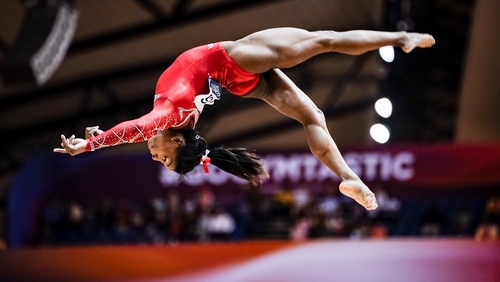 The Time Consuming Aspect of Gymnastics Training
As stated above, most Gymnasts start their careers very early on (2-3 years of age), meaning that training and competitions happen during the time period most children are going to school, finding what social circles they fit in, participating in clubs and simply going out and having fun with their friends and family. As such, Gymnasts sacrifice much in dedicating themselves to their sport. For example, school schedule dictates certain times that are required for lessons and study, but sometimes training and competitions get in the way of a normal school schedule, which results in needing to change school hours and can even call for taking online classes instead. Family and friend time is something else that is often sacrificed. Long training hours and travel for competitions leaves limited time to spend with family and friends, which can leave Gymnasts feeling isolated. 
Luckily they have the comradery of their teammates. Missing out on social events are another major (some would argue the greatest) sacrifice Gymnasts must make. Things like sleep-overs, shopping with friends, going on dates, prom, spring/summer/winter breaks—all things many of us take for granted, Gymnasts often miss out on and long for. As previously mentioned, Gymnastics takes a significant toll on the body, thus another major sacrifice that Gymnasts make is having a pain-free body. The tireless hours of training, the immense pressure of competitions, and the limited time for unstructured breaks place an enormous strain upon the athlete. It is therefore required for Gymnasts to put as much time into their rehab as in their training. This is also the reason Gymnasts careers are often shorter lived compared to other sports, with the average Gymnast retiring before or in their early 20's. Though there are outliers and career length tends to be longer for men than women due to body composition. 
Another big sacrifice comes in the form of finances: although this sacrifice comes from more of the parents, it does affect many gymnasts. Many families pay a substantial amount per month to their gyms, along with competition costs, traveling for meets, and apparel/equipment costs. This sacrifice can affect the entire family and can be tough for many.
                     So, What do Gymnasts do After They Retire?
Many Gymnasts dedicate their entire childhood and adolescent years to the sport, essentially making Gymnastics the only thing they've ever really known. Their identities become built on the endless hours of conditioning, the obsessive perfectionism required to ace a routine, the many road trips to competitions and the complete and total structure of their daily schedules dictated by their coaches. Upon retirement, a sentiment Gymnasts often share is a profound sense of loss, as they begin to experience a level of freedom not previously afforded to them.
All of their previous goals and aspirations were predicated on accomplishments in their Gymnastic careers. Now, they are faced with the daunting task of creating new goals and finding new things to aspire to, developing a new identity along the way, though many Gymnasts will say the sacrifice was well worth it. For those that are still in school after retirement, the extra free time allows for more focused study and extracurricular activities such as clubs or even other sports.
Those that are out of school go on to work in fields related to their degrees, become coaches, Olympic commentators, and thanks to the rise in popularity of Social Media, former athletes now how wide-reaching platforms to continue promoting themselves and interacting with their fans. Due to the "low-key" nature of Gymnastics, with its rise in popularity typically coming about during the Olympics, it is rare for Gymnasts to earn enough money from sponsorships to live off of solely after retirement.
However, exceptions due exist with "super" Olympians such as Simone Biles, who has received significant endorsements from giants like Nike and Beats By Dre after her historic performance in the 2016 Rio Olympics. Still, others take their years of experience and elite conditioning and transfer them to other sports, such as Diving or Power lifting. The artistic side of Gymnastics affords former Gymnasts the ability to be Choreographers and Dance instructors. It is also fairly common for former Gymnasts to either join or be recruited into the Circus, due to their acrobatic nature. Some even become stunt doubles for action movies, such as Kristina Baskett who was most notably a stunt double in Game of Thrones.
Gymnastics is one of the most demanding (and rewarding, as Gymnasts will tell you) sports there is. Many sacrifices must be made along the way. But, that is the same with any worthwhile journey in Life. The skills Gymnasts develop during their training and competitions can be applied to nearly every facet of life. Very few will earn enough money during their careers to enter a non-working retirement, but the acumen they earn creates Engineers, Doctors, Lawyers, Coaches, Commentators, Dancers, Entertainers, and even Social Media Gurus.
Summary
Article Name
Life After Gymnastics: A Comprehensive Guide on Retirement
Description
Gymnastics is one of the most demanding (and rewarding, as Gymnasts will tell you) sports there is. Many sacrifices must be made along the way. But, that is the same with any worthwhile journey in Life. The skills Gymnasts develop during their training and competitions can be applied to nearly every facet of life.
Author
Publisher Name
Publisher Logo