Disclosure: This is a professional review blog. Bear in mind that some of the links in this post are affiliate links and if you go through them to make a purchase I will earn a commission. Keep in mind that I link these companies and their products because of their quality and not because of the commission I receive from your purchases. All of the products are tested thoroughly and high grades are received only by the best ones. I am an independent blogger and the reviews are done based on my own opinions.
High achievers such as gymnasts can be difficult to shop for. It's easy to go the ordinary home beam, new leotard, hair band route. But do you really want to go the easy route? Why not go over the moon for this incredible person; shocking them with gifts so precise to their needs as a gymnast but so unique nobody else has thought of them? Coming up with unique gymnastic gifts may not be as easy as it sounds, but we can help. This guide offers 4 unique gymnastic gifts you haven't considered ranging from $10 to $299. 
Hand Care Kit
A gymnast's hands take a severe beating over time. As stated by GymnasticsHQ.com, the friction between a gymnast's hands and the bars eventually can cause skin to rip or too thick, jagged calluses to form. Not only that, but the chalk used to improve bar grip is drying to the skin, making it more likely to rip and crack. 
A custom hand kit with a hand pumice stone, hand cream, moisturizing glove masks, and tea tree oil can be a life-saving miracle gift to the hard-working gymnast. Here's what you'll need for the best nourishing hand gift kit. 
Hand pumice stone. Calluses are crucial for gymnasts, but too thick of calluses can cause skin rips and issues with gripping the bars. A pumice stone can help smooth these calluses into optimal ones. This one from Amazon is only $7 and based off of natural Greek methods. 
Super healing hand cream. Hand creams and lotions combat the drying from chalk. The Burt's Bees Baobab Oil Ultimate Care Hand Cream is as inexpensive as $7.39 and five star reviewed for super dry skin. 
Glove masks. These professional nourishing hand masks provide extra moisture to chapped skin and protection from future wear, for only $13.99. 
Tea tree oil. Tea tree oil is a super healer; great for scrapes, cuts, skip rips, and over rough calluses. It also acts as a nourisher and moisturizer, additionally protecting the skin. Do note that because tea tree oil is so strong, the user should mix it with a carrier oil (such as almond oil, castor oil, or olive oil). Another option would be to hold your hands over a steamer with the tea tree oil diffused in it. This organic 100% tea tree oil is $9.99. 
As you can see, a handcare kit is a super thoughtful and impactful gift for under $40. Any gymnast putting any hour upon hours a week at the bars will thank you! 
Slides
While gymnasts may be show-stopping and revel in their stardom on the mat, post- practice or competition necessities are just as vital as performance items. Slides are one of these items; a crucial part of any gymnasts day to day routine. They are also an opportunity to exercise fashion and comfort. I'll recommend two top-notch selections here.
The Adidas Adilette Aqua Slide Sandal starts is available in 24 different unique color selections; so there is truly something for any gymnast! They are fashionable and affordable starting at only $16.90.
The Nautica Athletic Slide is also available in a variety of styles, 23 to be exact, so they are an option for the sporty, the girly, the minimalist, the extra, or the classy. These trendy sandals start at $10, an extraordinarily affordable price for such a vital accessory. 
While a little more on the pricey side, starting at $89.95,  Arizona Birkenstocks are another great option for post/pre- practice or competition. They're stylish and slide on great with bare feet or socks underneath. These are a little less sporty and athletic but are incredibly durable; perfect for long days walking around sports facilities and cities when traveling for competitions. Just as with the other slides, there are many color options so the recipient can receive a gift that matches their style. 
BlazePods
Gymstarzde.com knows that agility is absolutely essential to gymnasts as they move through several positions quickly while doing floor routines or balancing movements like backflips on a beam. 
Agility is composed of balance, strength, good reaction time, and coordination. What gymnast wouldn't love to improve these qualities? BlazePods are a flash reflex training system that improves various specific aspects of athleticism through drills and exercises accompanied with visual cues and stimulation requirements from points like the hands, knees, or feet. They connect via Bluetooth with a companion app so you can not only track your progress but do team competitions and workouts. This combined with an attachable feature allowing the devices to be fixed on trees, mirrors, windows, or poles, truly makes the device a must-have in an unprecedented time with stay-at-home quarantined training a possibility or reality. You can also add your own custom exercises; perfect for cognitive or rehabilitative extra interests. The flashlights are customizable and can be connected to music; how fun is that! 
BlazePods are a gift that will forever change the way a gymnast trains. On Amazon here, they start at $299 and can be purchased in sets of four, six, eight, or twelve pods. 
Medal Display Lamp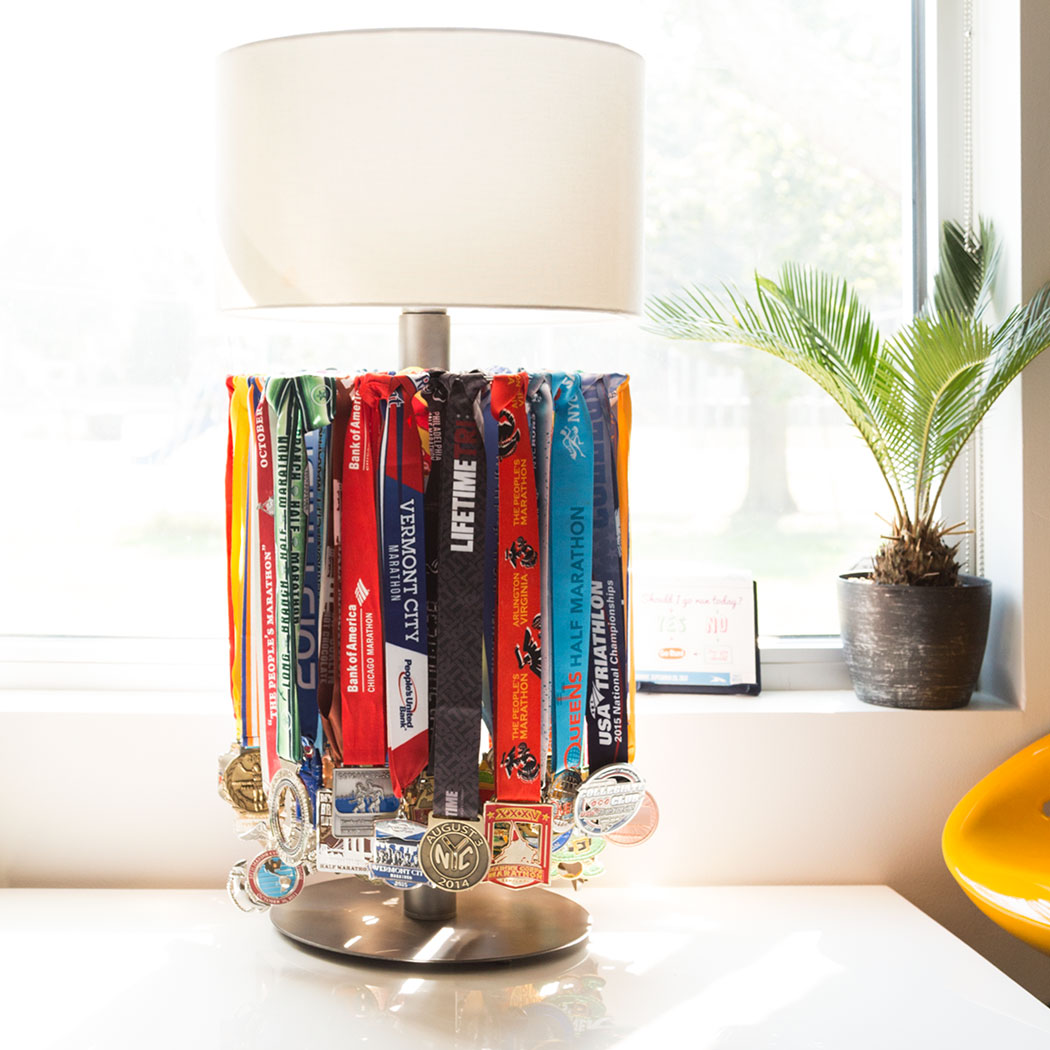 What gymnast doesn't like showing off their achievements? Medals are the pride and glory of their bearers; gymnasts put in a lot of hard work for them. Celebrate the gymnast in your life by encouraging them to revel in their accomplishment; but add the practical touch of a lamp. When put on a bedside table; this can serve as a constant reminder of how great they are.
This medal display hanger lamp holds over 60 medals and is $124.99.
Unique gymnastic gifts are difficult to brainstorm and uncover. So often a quick google search results in stretching equipment or the classic "I Heart Gymnastics" phone case. No gymnast truly wants to suffer through opening another biography of Simone Biles for Christmas or a luxury chalk set for their birthday. But now, you have the opportunity to wow them with your heartfelt, thought through, unique gymnastic gift. They will most definitely know you love and care for them.