Disclosure: This is a professional review blog. Bear in mind that some of the links in this post are affiliate links and if you go through them to make a purchase I will earn a commission. Keep in mind that I link these companies and their products because of their quality and not because of the commission I receive from your purchases. All of the products are tested thoroughly and high grades are received only by the best ones. I am an independent blogger and the reviews are done based on my own opinions.
As a gymnast, keeping your hair tied back is crucial to performance. Well secured hair allows for ease of movement and freedom in sport. Unfortunately, finding good quality hair ties that actually hold your hair for extended periods of intense exercise can be difficult. Often a hair tie isn't grippy enough or is so grippy it hurts. Sometimes the dimensions are not enough for your thick hair and other times the dimensions are too much for your thin hair. Hair falls out or moves to an uncomfy position easily. It is an incredible luxury for a hard-working athlete to have a hair accessory that makes their training easier.
This article shares with you the highest quality, best value, unique and classic best hair ties for gymnastics on the market. There is truly something for everything with different sizes, colors, and styles.
Infinity Collection Gymnastics Hair Ties by SPORTYBELLA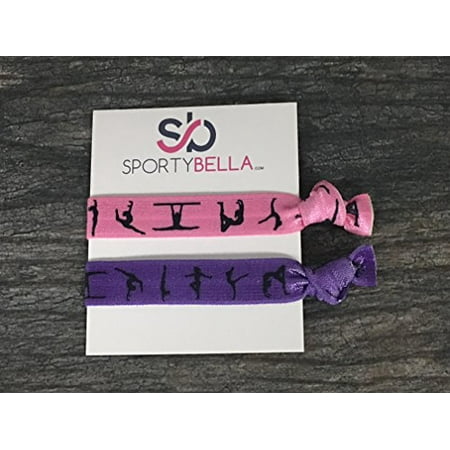 For less than ten buchs, you can get this fashionable sporty five piece set of gymnastics themed hair ties. You don't need to worry about a hurting scalp while doing flips and bounds because of the no tug ouchless hair elastics technology. These hair ties are also made with no crease Ribbsin so you can be confident in your physical presentation on and off the mat. What's more, SPORTYBELLA is a family owned athletic business whose goal is to increase team spirit, pride in sport, and connection within a young girl's heart. This set comes with three gymnastic themes prints, a black sparkly hair tie, and a pink solid hair tie.
Click here to check the price on Amazon.
BBTO 20 Piece Girls Gymnastics Hair Ties
This is a 20 piece gymnastic hair accessory ponytail holder with no crease technology. 10 different colors are provided; there are two of each different color.  These colors entail hot pink, purple, navy blue, black, orange, yellow, green, white, teal, and baby pink. Hair tie size is approximately 4.0 inches long and 0.6 inches wide before stretching and significant use. After usage it can be stretched to 6.5 inches in length. The material is durable elastic, odorless, and washer fade-proof.
Click here to check the price on Amazon.
WILLBOND 8 Piece Gymnastics Velvet Hair Scrunchies
The WILLBOND best hair ties for gymnastics are stretchable, velvet, and no crease. With an inner diameter of 1.5 inches and outer diameter of 4.3 inches, they are the perfect flexible size for all hair types. Every scrunchies in the 8 piece set has a different design or pattern. There is a red, blue, purple, and pink scrunchie with the leaping gymnast pattern. The other four are combinations of black, grey, red, white, and green with an " I love gymnastics" pattern. These hair ties are perfect for buns, pony tails, or even braids.
Click here to check the price on Amazon.
MUST READ: 60 Things You Need to Know About the USA Gymnastics Team
Goody Ouchless Womens Elastic Hair Tie 27 Count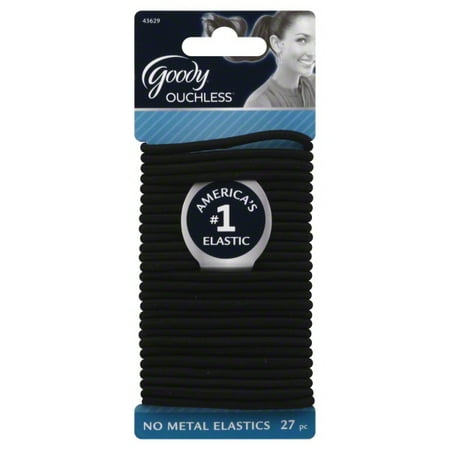 It wouldn't be a hair product  list without Goody Ouchless hair ties in it. The four millimeter classic black hair ties are an essential for any athlete constantly running around. They are discreet, simple, and efficient. The no metal elastics won't snag your hair yet you still get the durability of 10x more ponytails per elastic. Plus, you can't beat the affordability.
Click here to check the price on Amazon.
Kitsch Spiral Hair Ties 8 Count
The Kitsch Spiral Hair Ties, otherwise known as phone cord hair ties or coil hair ties, are an 8 piece set of neutrals. There are two baby pink hair ties, two mauve hair ties, two grey hair ties, and two black hair ties. You are not just limited to these colors however. There are four other sets; an all blacks set, a white, grey, and brown set, a pink and pearl set, and a transparent set. With a diameter of 3 times 1.4 inches, the set is waterproof, made of thermoplastic polyurethane, and hygienic with non-absorbent features, perfect for working out.
Click here to check the price on Amazon.
Biodegradable Terra Ties Elastic Organic Hair Ties
If you're interested in a discreet, functional, and environmentally friendly option, Terra Ties are the choice for you. Made of ethically sourced, plastic free, and biodegradable organic rubber and cotton. The packaging of this product is 100% recyclable and when the hair ties have achieved maximum usage they are easily compostable. This 27 count no crease, no slip, no damage set is for all hair types; thick, thin and curly. With a diameter of 5 millimeters, this set can be purchased for less than twenty dollars.
Click here to check the price on Amazon.
MUST READ: Unique Gymnastics Floor Music
L. Erickson Grab & Go Pony Tube
A heavier duty set of the best hair ties for gymnasts, from a creative and strength perspective. Sold in a 15 count, this product is for unique prints in navy blue, pink, mauve, brown, and light blue.  L. Erickson hair ties have dimensions of 2 inches diameter, and 2.8 times 2.8 in length times width. As a heavier duty fit, these hair ties are ideal for those with thick or curly hair they feel other accessories are just too flimsy for. Keeping the hair back is so important in sports for athletes to be able to move with ease. The accented ornamental bead adds a unique touch you don't see in most ordinary hair ties as well.
Click here to check the price on Amazon.
With these 7 high quality choices surely you have found a new hair accessory to make your sport more enjoyable. The best hair ties for gymnastics can be tricky to uncover, specifically for your certain hair type or personal style, but hopefully you have recognized there are many options out there catering to every gymnast!
Before purchasing, make sure you select the color scheme you want and have chosen a product with dimensions that match your hair type. Perhaps, grab multiple products to have different options for different situations. Whether you're into scrunchies, simplicity, or eco-friendly products, it's important to make sure the hair tie is comfy for you to train in. Take advantage of the satisfaction guarantees and try out the various products until you have found the high quality option that best fits your individual needs as well as wants. Every gymnast deserves a hair tie that helps them look and feel their best!