Disclosure: This is a professional review blog. Bear in mind that some of the links in this post are affiliate links and if you go through them to make a purchase I will earn a commission. Keep in mind that I link these companies and their products because of their quality and not because of the commission I receive from your purchases. All of the products are tested thoroughly and high grades are received only by the best ones. I am an independent blogger and the reviews are done based on my own opinions.
Gymnastics rings do come in a variety of sizes and materials and have different purposes as well. Some use rings for CrossFit, others use them for basic calisthenics and others opt for gymnastics training. But when it comes to understanding which rings are right for you and which size to go for, this article will help answer this question for you: 28mm vs 32mm gymnastic rings – what is the difference between them, and which one should you go for?
What is the difference?
This may seem somewhat self-explanatory, but the immediate noticeable difference between 28mm vs 32mm gymnastic rings is the thickness of the rings. The 28mm ring is easier to grip because of its smaller size and is better suited to pulling exercises and movements because of this. If you do have smaller hands, these rings are better suited to you for safety reasons as well, as using rings that are too large can be dangerous, as you do not have full control of your grip. The 32mm ring, on the other hand, is suitable for pushing exercises and is the CrossFit standard size, so is better suited if you are training for those types of competitions or want to get started in fitness competitions in general. But which ones are the best for you?
Awegym Gymnastic Rings (1.1"/28mm)
The awegym 28mm gymnastic rings come equipped with double layer nylon straps, carabiners, grip tapes and a resistance band, which is suitable for changing your exercises and making them more achievable, if you do feel that you are struggling in your calisthenics. Retailing at $59.99, they also come with a guidebook and storage bag, to make moving the rings easier if you need to change their location. These rings have proved popular with customers, with 84% of reviewers leaving them a five-star review and stating that they feel that the rings are very smooth and are easy to assemble. No negative reviews could be found.
Click here to check the price on Amazon.
MUST READ: Unique Gymnastics Floor Music
Vulken Wooden Gymnastic Rings (1.1"/28mm)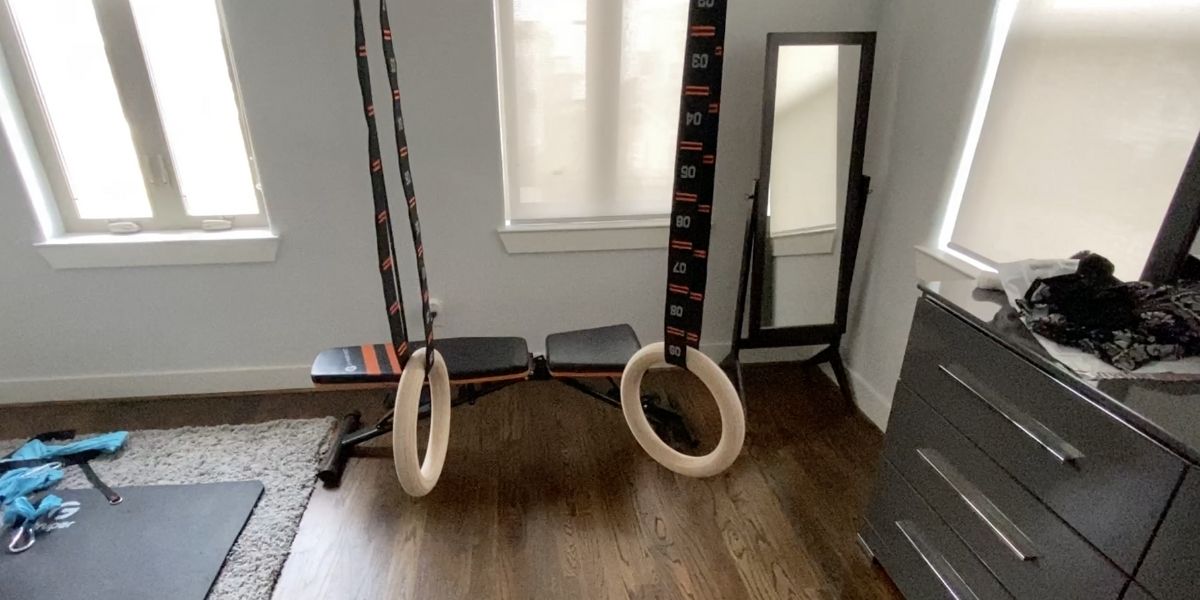 The Vulken wooden gymnastics rings, as with the awegym rings, come with the nylon straps and carabiners, as well as a guidebook for setting the rings up. However, Vulken also provide workout handles and foot straps with the rings, meaning that you can change the exercise as you please. Priced at $39.99, customers have raved about the quality of the carabiner clips and the sturdiness of the rings after assembly. However, some reviewers have questioned the quality of the straps and have stated that the straps are uneven, which causes difficulty in exercises.
Click here to check the price on Amazon.
5BILLION FITNESS Gymnastic Rings (1.1"/28mm)
The 5BILLION FITNESS gymnastics rings are made with solid wood and come with 38mm heavy duty straps. There is the option to switch to the 32mm, which is not available with the previous rings reviewed. The straps are easy to adjust and the rings themselves are easy to assemble. Consumers have reported that these rings, which vary in price between $30.99 and $32.99 depending on the size purchased, have been safer for children to use, as they can be attached to ready assembled pullup bars. However, there have been negative reviews, stating that the rings are prone to splintering after a short period of use and that the straps do not come with numbers, which makes choosing exercises and ensuring that the straps are the correct length in the first place problematic.
Click here to check the price on Amazon.
Iron Bull Strength Wooden Gymnastics Rings (1.25"/32mm)
The Iron Bull Strength wooden gymnastics rings are simplistic in their design but come with quick install instructions and heavy-duty ring straps. They are advertised as being ideal for CrossFit and for strength training for men, women and children, though it's important to note that 32mm rings may not be suitable for smaller children unless under strict supervision. Selling for $29.95, customers have praised the quality of the materials used (although some have suggested treating the rings with beeswax to ensure the durability of the rings) and stated that the rings are perfect for pullup exercises, as well as push ones. Whilst the rings have received mostly positive reviews, it is worth noting that customers have commented on the installation video and manual not linking them to the information on the box.
Click here to check the price on Amazon.
LEIPUPA Wood Gymnastic Rings (1.25"/32mm)
The LEIPUPA wooden gymnastics rings are, as with the Iron Bull rings, simplistic in their design and marketing. Rather than making claims about perfect exercise capability, LEIPUPA are keener to emphasise that the heavy-duty straps have a 1000lbs loading capacity and are great for push ups, muscle ups and iron cross, all associated with CrossFit exercises. The rings, which retail at $40.99 for the 32mm variety, are yet to receive reviews from customers at this stage, which could mean that they are a new product.
Click here to check the price on Amazon.
MUST READ: 60 Things You Need to Know About the USA Gymnastics Team
Feileng Wood Gymnastic Rings (1.25"/32mm)
Feileng's 32mm gymnastics rings are advertised as being strong, durable and made from and finished with birch wood. As well as standard claims about the exercise ability, Feileng also claim that the rings can correct a bent cervical spine and adjust the standing posture, claims which have not been found on the other products reviewed. What customers have noted is that the set, which retails at $40.41, only comes with one ring as opposed to two, which is unusual for this market. As a result, reviewers have stated that they have felt scammed, as delivery time is long, and you only receive one ring and no additional materials.
Click here to check the price on Amazon.
There are several options available when thinking about the 28mm vs 32mm gymnastic rings debate and where your allegiance lies. Thinking about the exercise type that you're aiming to go for, your hand size and the quality of the product are all too important factors to consider. The conclusion is quite a simple one; if you're looking for a less demanding exercise or are just starting out in callisthenic style, then the 28mm gymnastic rings are ideal for you. If you're into your CrossFit or are looking for a more demanding exercise, then the 32mm gymnastic rings are the right one for you. Whichever ones you choose, have fun with them and pull (or push) up to success!